De GC en Legal Operations
Het takenpakket van de GC is de afgelopen 10 jaar enorm uitgebreid. Het efficiënt en zakelijk runnen van de afdeling is een competentie die de GC moet beheersen doch die steeds vaker door de Chief Legal Operations Officer wordt uitgevoerd.
Kennis van technologie is en blijft een belangrijke competentie voor de moderne General Counsel. De inzet van technologie bij het efficiënt runnen van de juridische afdeling is een no-brainer  en een competentie die de moderne GC moet beheersen.
Het optimaal laten functioneren van de juridische afdeling wordt echter steeds vaker door een aparte functionaris met bepaalde non-legal kwaliteiten uitgeoefend. Deze zogenaamde Chief Legal Operations Officer  ("CLOO") is de rechterhand van de GC. De extra hulp van de CLOO zal menig General Counsel als muziek in de oren klinken. Eindelijk niet meer afgeleid worden door de zorg voor begrotingen, data, technologie en de implementatie van nieuwe instrumenten.
Legal Operations: alles behalve de wet
Afgelopen week waren we op het jaarcongres van het Corporate Legal Operations Consortium (CLOC) in Las Vegas, een netwerk opgericht voor en door CLOOs, waar we kennis maakten met een gedetailleerde definitie van wat ze in de Verenigde Staten verstaan onder Legal Operations en met de daarvoor verantwoordelijke functionaris: de Chief Legal Operations Officer (CLOO).
Het Legal Operations Team bestaat vaak uit personen met een multidisciplinaire achtergrond die binnen een organisatie de juridische diensten optimaliseert. De CLOO houdt zich binnen een kantoor of juridische afdeling met van alles bezig, behalve met de details van de juridische aspecten van het werk. De CLOO houdt toezicht op budgetten, datamanagement, technologie, human resources en vele andere terreinen. Volgens het Amerikaanse CLOC richt Legal Operations zich op twaalf basiscompetenties zoals die in het onderstaande model weergegeven zijn.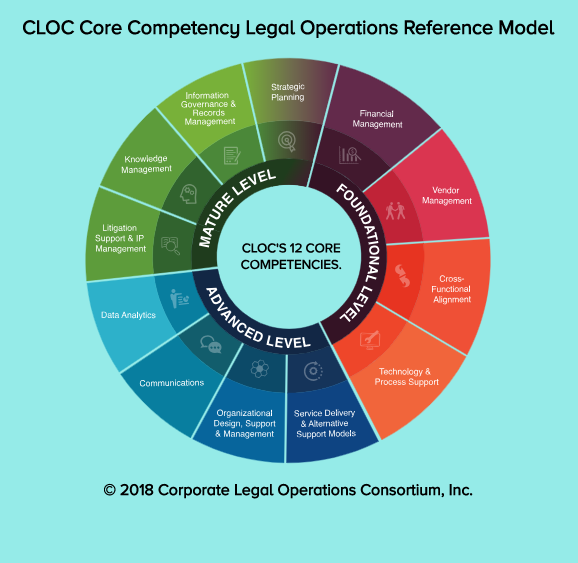 Source: Corporate Legal Operations Consortium (CLOC)
Een beginnende Legal Operations Manager zal zich vooral bezighouden met financieel management, het managen van traditionele leveranciers zoals advocatenkantoren en het assisteren bij de meest elementaire technologische ondersteuning, denk aan werkplekken en telefoons.
De meer geavanceerde CLOO richt zich ook op het aanbieden van alternatieve dienstverlening, het herontwerpen van interne processen om meer efficiëntie te bereiken (bijvoorbeeld bij contractmanagement) en het gebruik van dataanalyse om knelpunten in de juridische processen te ontdekken.
De top CLOO zal zich ook actief bezighouden met:
Het managen van eDiscovery bij onderzoeken, verzoeken van toezichthouders of rechtszaken; hij of zij zal dit niet meer volledig overlaten aan externe advocatenkantoren;
Het actief managen van kennis;
Information governance & records management;
Strategische planning.
Kennis en gebruik van technologie is de meest essentiële competentie voor de professionele CLOO.
Technologie kan meer
In de Verenigde Staten stijgt het aantal mensen dat werkzaam is in Legal Operations gestaag. Niet verwonderlijk omdat het gebruik van technologie in de juridische sector eveneens sterk toeneemt. Grote kans dat u al geautomatiseerde systemen gebruikt voor contractmanagement, corporate house keeping en andere basistaken.
Maar er zijn meer handmatige routinetaken die nu intern veel tijd kosten of – vaak voor veel geld – worden uitbesteed aan externe dienstverleners. Denk aan het voorselecteren van gegevens bij onderzoeken, verzoeken van toezichthouders of rechtszaken. Aan het verzamelen van relevante gegevens en het opsporen van problemen bij het samenstellen van een data room bij herfinanciering, overnames of andere M&A-activiteiten. Dit zijn allemaal werkzaamheden die met behulp van moderne AI-technologie kunnen worden geautomatiseerd.
Zeker in het kader van de AVG/GDPR is het niet wenselijk medewerkers handmatig gegevens te laten anonimiseren of pseudonimiseren als er informatie aan derden overgedragen moet worden. Technologie kan dat veel beter.
Grote kans dat uw juridische afdeling nog niet de luxe van een eigen Legal Operations specialist geniet. Echter u hoeft niet te wachten op de CLOO om gebruik te kunnen maken van intelligente technologie om de dienstverlening van uw juridische afdeling naar een hoger niveau te tillen.  Wij helpen u daar graag bij en bespreken graag en geheel vrijblijvend de mogelijkheden met u. Meld u hier aan voor een gratis test account of neem contact met mij op.
Over de auteur:
Prof. dr. ir. Johannes (Jan) C. Scholtes is Chairman en Chief Strategy Officer van ZyLAB. Jan bekleedt sinds 2008 de buitengewone leerstoel 'Text Mining' van de afdeling "Data Sciences and Knowledge Engineering" in de Artificial Intelligence groep van der Universiteit van Maastricht. Sinds 2018 is hij ook president van het Benelux Chapter van de Association of Certified eDiscovery Specialists (ACEDS).
ZyLAB is het enige Nederlandse softwarebedrijf met meer dan 30 jaar ervaring in eDiscovery en informatiemanagement en heeft zich bewezen in talrijke grootschalige corporate en strafrechtelijke onderzoeken over de hele wereld. ZyLAB's technologie wordt ook door veel toezichthouders gebruikt. Meer informatie op www.zylab.nl
ZyLAB ONE eDiscovery gebruikt de meest recente data science-technieken uit de wereld van Artificial Intelligence voor data onderzoeken en informatie management.