Innovatie en kostenverlaging zijn onlosmakelijk verbonden
Het recente General Counsel NL Benchmarkonderzoek toont weer glashelder aan dat de 'More for Less challenge' voor de General Counsel nog immer relevant is. Volgens dit onderzoek blijven de juridische kosten de komende jaren gelijk of stijgen ze voorzichtig. Tegelijkertijd wordt er door CEO's nog kritischer gekeken naar deze kosten vergeleken met het laatste onderzoek uit 2016 en is maar liefst een derde van de General Counsel-deelnemers aan het recente General Counsel NL Benchmarkonderzoek van mening dat zij momenteel onvoldoende financiële middelen tot hun beschikking hebben.
Kortom, de uitdaging voor een General Counsel om een optimale balans te vinden tussen kwaliteit, risicobeheersing en kosten wordt steeds groter. Dit creëert de noodzaak voor nieuwe, innovatieve oplossingen die het huidige dienstverleningsmodel in de advocatuur verder ontwikkelen. Onder de naam Advanced Delivery ontwikkelt A&O al enkele jaren nieuwe diensten om onze cliënten te helpen met deze uitdaging. Naast een slimme combinatie van juridische expertise (kennis), resourcing (mensen) en technologie staat co-creatie met onze cliënten centraal. In september 2016 beschreven collega's Niels de Ru en Lotte van de Broek in de GCN nieuwsbrief al hoe Advanced Delivery is ingezet voor een van onze cliënten bij de introductie van een nieuw (financieel-) product in 75 landen.
Afhankelijk van de complexiteit en omvang van een bepaald project kunnen verschillende van deze diensten (expertise, resourcing, technologie) met elkaar gecombineerd worden om zo tot de meest kosten- en tijdsefficiënte oplossing te komen. Hieronder vindt u een update van de verschillende onderdelen van Advanced Delivery:
Legal Services Centre (LSC)
Gevestigd in Belfast en met meer dan 100 medewerkers stelt deze afdeling ons in staat om in complexe projecten op korte termijn grote hoeveelheden documenten te analyseren en te verwerken, bijvoorbeeld in het kader van een interne audit, een compliance onderzoek of een due diligence binnen een internationale M&A transactie. Voor zeer grootschalige documentreviews werkt de LSC samen met low-cost serviceproviders om de initiële review uit te voeren. Afhankelijk van de inhoud van het project, de jurisdictie en/of taal, zijn deze serviceproviders gevestigd in Nederland of bijvoorbeeld in India. Steeds vaker wordt AI (machine learning, predictive coding, natural language processing) ingezet bij deze reviews om automatisch relevante informatie te identificeren en te verzamelen. A&O is het eerste internationale kantoor dat een samenwerking is aangegaan met RelativityOne, de marktleider op het gebied van eDiscovery. Daarnaast werken we met Kira Systems, een document review oplossing die in staat is om ruim 400 clausules te herkennen.
Fuse (Legal Tech)
Op ons kantoor in Londen is een verdieping vrijgemaakt voor Fuse, onze tech innovation broedplek. Hierin brengen wij technologiebedrijven en legal tech start-ups samen met onze cliënten en collega's. Sinds de opening van Fuse in september 2017 zijn er ruim 5,500 interne en externe bezoekers geweest. Iedere 6 maanden kunnen circa 8 tech-bedrijven hun oplossing verder ontwikkelen in Fuse. Relevante voorbeelden daarvan zijn:
Project Management Office (PMO)
Een team van getrainde Legal Project Managers ziet erop toe dat complexe transacties, projecten of geschillen zo optimaal mogelijk worden uitgevoerd. De advocaten zelf kunnen zich hierdoor volledig op de inhoud richten. De Project Manager zorgt, zelfs op de meest drukke momenten, voor overzicht, een soepel proces en grip op de kosten.
Peerpoint
Onze wereldwijde flexibele schil van interim-juristen, waarmee we op een flexibele manier ervaren advocaten als consultants in kunnen zetten in onze eigen teams of detacheren bij cliënten voor specifieke, tijdelijke opdrachten.
Al deze Advanced Delivery-initiatieven dragen ertoe bij dat we voor onze clienten een optimale balans kunnen creëren tussen kwaliteit en kosten. Meer informatie over het Advanced Delivery-model, vindt u hier.
Over de auteur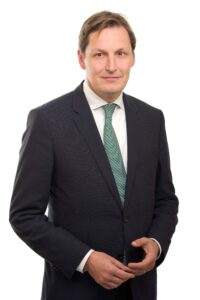 Frank Thuis
Head of Client Relationship Management
Tel +31 20 674 1000 | Frank.Thuis@AllenOvery.com