See you in court?
When a contract is entered into, disputes are often the last thing on the parties' minds. However, unfortunately any relationship can take a turn for the worse, and then you may find yourself in a position where you do have a dispute that needs to be settled. In that case, having the right dispute resolution mechanism in your contract can help to make sure that you can deal with the dispute effectively and efficiently.
To achieve this, it is important to take sufficient time when drawing up your contract to think about the kind of dispute resolution mechanism you want to include. Already at this stage, you need to make a number of important choices – some of which you will also need to discuss with internal stakeholders. For example: do you want to include an alternative dispute resolution dispute for part or all of your contract, and if so what should that look like? Do you chose litigation or arbitration, and in what form? Making the right choice also requires that you 'know the deal': it might make a difference, for example whether you are dealing with a long-term partner with whom you have an on-going relationship or whether this is a one-time deal. Another important factor to consider is what the end-result of the dispute resolution should be: for example, do you need to enforce an award in other countries or not?
Alternative dispute resolution (ADR)
ADR can be an efficient and cost effective way to solve a dispute. This can either be in the form of an alternative to litigation – i.e. mediation or binding advice rather than litigation or arbitration – or as a prerequisite to it. A typical example of the latter is a so-called escalation clause, where a dispute must first be referred to the parties' decision makers at management or even board level for resolution. However, there are a number of things you should consider when including this in your contract:
Procedure: make sure you are aware of the procedural consequences of the ADR mechanism you chose. For example, whilst mediation is commonly thought of as being 'confidential', neither the confidentiality of the proceedings nor the right of non-disclosure (verschoningsrecht) of the mediator are necessarily guaranteed unless you specifically agree this with the other party.
Practicalities: make sure that your escalation or other ADR clause will work in practice – for example, that the people designated to deal with the issue are available. Also, think about what will happen whilst you are in the ADR process. You may want to make interim provisions to ensure that your business can continue without disruption in the meantime.
Enforcement: an ADR procedure does not generally insult in an enforceable title, meaning that you may still have to resort to the courts or arbitration in the end. Make sure that this is also provided for in your contract.
Litigation or arbitration?
There is no golden rule when choosing between litigation and arbitration – what is best will depend entirely on the circumstances of the case. Factors to keep in mind are:
The choice of arbitrators with a specific expertise vs the legal expertise and independence of the courts.
The applicable rules of procedure and evidence.
Confidentiality of arbitration vs public court proceedings.
Enforcement of the award (with the advantages of the New York Convention for arbitral awards).
Costs and speed of the procedure.
When choosing arbitration, another matter to consider carefully is what arbitration rules to apply. The applicable rules will determine what your procedure looks like and there can be quite significant differences, for example in terms of the possibilities for a short-track procedure or summary relief in arbitration.
An ever-moving landscape
The dispute-resolution landscape is developing continuously. Some examples of recent developments that are relevant to take into account when deciding what dispute resolution clause to include in your contract:
The Netherlands Commercial Court is scheduled to come into force during the course of 2018. This will be a specialist chamber of the Amsterdam courts of first instance and appeal, specialized in hearing complex (international) commercial cases. The NCC will operate under Dutch procedural law, while its working language will be English.
Further to the introduction of an Emergency Arbitrator procedure in 2012, the arbitration rules of the International Chamber of Commerce now also provide for expedited procedure rules for smaller claims since March 2017.
The Hague Convention on Choice of Court Agreements has recently become effective between the EU, Mexico (2015) and Singapore (2016), allowed for mutual recognition of court judgments if the court's jurisdiction was based on a (valid) choice of court agreement. It has moreover recently been signed by Ukraine (2016), Montenegro (2017) and China (2017), although it is not yet effective in these countries.
If you are working on a dispute resolution clause, or have any other questions regarding the above, please contact us.
About the author: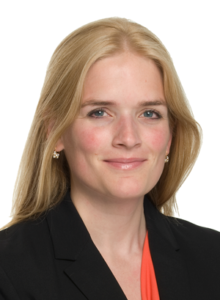 Hilde van der Baan, lawyer at Allen & Overy, specialises in international arbitration and corporate and commercial litigation, with a particular focus on projects and construction arbitration. Her practice covers the full range of dispute resolution, with an emphasis on contractual liability, (financial) product liability and M&A-related disputes. She has represented clients in numerous national and international arbitrations under various institutional rules. Hilde was a member of the committee which drafted the new 2015 NAI Arbitration Rules and was appointed as a member of the Executive Board of the Dutch Arbitration Association in May 2017.