Use of Technology – New Ways of working as General Counsel
Over the past 10 years, unprecedented disruptions—including the deregulation of the practice of law and advancements in technology—have been changing the face of the legal sector. Law firms have already begun to feel the impact of these disruptions. And corporate legal departments are increasingly being asked to reduce costs and operate more efficiently than ever before. Legal is also seeing the wall come down between its function and the business.
The notion that an in-house legal team should function like an internal law firm is giving way to a vision of the legal department that's a commercial function—a function that drives economic value for the business. Rigid silos are being replaced by more fluid structures. In-house lawyers are becoming business partners, embedded and able to work across units and specializations.
Like other corporate functions, such as human resources and finance, legal departments are already experiencing technology disruption. The "three A's" (automation, artificial intelligence, and analytics) are just a few technology disrupters that will likely shape the legal department of the future.
Automation
Automation continues to be a major driver that's affecting workflow. Many legal departments still rely on manual processes and paper documentation, but automation is quickly changing that. In addition to automating routine processes and digitizing documentations in such areas as e-billing, technology will allow legal departments to perform more advanced tasks. For example, technologies that automate contract management processes can help legal departments create contracts more efficiently and also use automation to manage contract obligations and renewals.
Artificial Intelligence
As more processes within the legal department lend themselves to automation, we expect artificial intelligence to be part of the next wave of transformation and disruption. This isn't to say that we'll have robots replacing humans in the legal department. But machine learning can be applied to legal tasks. For example, the use of technologies to solve legal problems may become increasingly routine. While the regulatory issues related to machine learning and legal problem solving will still need to be addressed, it's not hard to imagine that the legal department of the future will have some aspect of machine-guided prognosis or support for legal tasks or issues.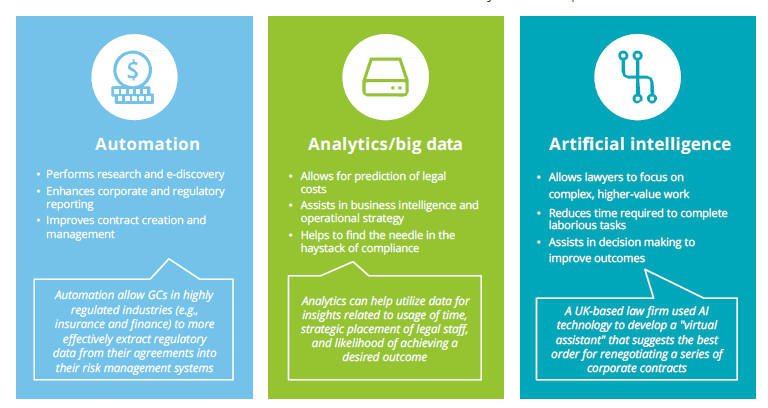 Analytics
Finally, and perhaps most interestingly, will be the application and evolution of analytics in the legal department. Analytics has already made its presence known in the area of managing legal expenditures. More technology platforms are offering legal departments ways to view and assess their data regarding spend and operations. This increased transparency has helped companies better manage their use of outside providers and identify opportunities to transform internal operations. But the next frontier may involve using analytics in more predictive ways.
As sensing technologies become more commonplace, companies may look to their legal departments to predict areas of exposure and risk—in advance of an issue occurring. Imagine a technology that can tell you with near certainty when and where your company will be exposed to significant product litigation and why. That technology is still in its infancy. But it has the potential to reshape the legal department as well as the entire legal landscape.
If you would like to receive more information please get in touch with: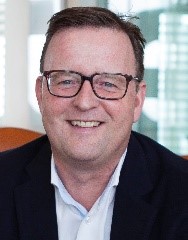 Chris de Jong
Tel : +31655853065