Thijs van der Lugt , General Counsel Aalberts Industries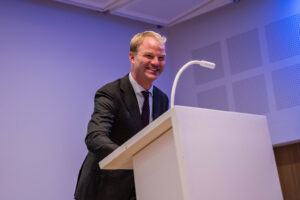 Je bent de winnaar van de General Counsel Award 2017 – 2018. Wat vind je daar van?
Alleen al gezien het aantal positieve reacties uit allerlei hoeken kan ik iedereen aanraden om hier een keer een gooi naar te doen. Toen ik werd genomineerd had ik niet verwacht deze award te winnen omdat ik omgeven wordt door energieke collega's met beduidend meer ervaring als General Counsel. Juist daarom vind ik het een grote eer dat mijn vakbroeders me tijdens het  GC NL Najaarscongres de award gegund hebben. Het is een steun in de rug voor de richting en het proces dat wij binnen onze organisatie voor juridische en governance zaken hebben gekozen en we zullen het in deze richting continu proberen te blijven verbeteren.
Kun je in het kort iets vertellen over Aalberts Industries?
Aalberts Industries is een Nederlands bedrijf dat daadwerkelijk dingen produceert en ontwikkelt en ondanks het feit dat inmiddels verreweg het grootste gedeelte van de werknemers, omzet en winst zich buiten Nederland bevinden heerst binnen Aalberts Industries nog duidelijk de Nederlandse ondernemersgeest, flexibiliteit en innovatie.
Aalberts Industries is een aan de AEX genoteerde technologieonderneming actief in verschillende nichemarkten binnen industrial services, industrial controls, climate control en building installations.  Aalberts Industries werkt al sinds 1975 aan uitbreiding van de technologieportefeuille door autonome groei en acquisities. Inmiddels werken bij Aalberts Industries ruim 16.000 medewerkers op zo'n 145 locaties wereldwijd. Het kenmerkende van Aalberts Industries is dat ondernemerschap wordt gekoesterd en aangemoedigd. Daarnaast zijn de afgelopen jaren risicobeheersing, governance en duurzaamheid steeds belangrijker geworden en wordt het meer en meer een vanzelfsprekend onderdeel van de dagelijkse business.
Kun je in het iets vertellen over jouw dagelijkse werk bij Aalberts Industries?
Mijn  presentatie tijdens het GCN congres begon met een filmpje van een Amerikaanse brandweerwagen die met heel veel herrie langs kwam scheuren en vervolgens een plaatje van een brandend huis met een fire fighter. Mijn dagelijkse werk bestaat uit het regelen dat samen met mijn collega's en externe specialisten juridische brandjes worden geblust maar zeker ook voorkomen. Dit omvat claims, contracten, overnames, IE en andere juridische zaken. Daarnaast ben ik betrokken bij het jaarverslag en de advisering en assistentie van de directie en de RvC.
Om de brandjes te voorkomen identificeren we met ons team continue de belangrijke risico's, maar ook kansen, op het gebied van risicobeheersing waaronder legal, governance en duurzaamheid. Op deze onderwerpen probeer ik in samenwerking met de directie een verbindende en activerende rol te spelen tussen onze bedrijven wereldwijd en tevens mijn collega's op het hoofdkantoor in Nederland. We hebben hiervoor verschillende netwerken opgezet waarin de lange en korte termijn plannen en doelen worden afgestemd en zeker ook opgevolgd. In deze netwerken zitten juristen maar voornamelijk collega's uit andere disciplines van onze bedrijven wereldwijd
Waar heb je tijdens je presentatie op het GCN najaarscongres de nadruk op gelegd?
Het van de grond krijgen van een legal & governance aanpak en een juridische afdeling bij een van oudsher decentrale organisatie. In 2010 startte ik als eerste jurist op het hoofdkantoor van Aalberts Industries. We zijn toen geleidelijk begonnen met het ontwikkelen en implementeren van een robuuste Code of Conduct en autorisatieschema in overleg met het groepsmanagement. Daarna  hebben we overige essentiële zaken zoals een Supplier Code en een hernieuwd Speak Up! systeem gelanceerd en geïmplementeerd. Omdat we willen dat iedereen daadwerkelijk deze regels leest en begrijpt proberen we alles beperkt te houden tot 1 A4 en zijn deze documenten in de belangrijkste talen beschikbaar.
Aalberts Industries heeft traditioneel een klein hoofdkantoor van momenteel slechts 25 man en het lokale management en groepsmanagement heeft relatief veel ondernemersvrijheid. Omdat we de belangrijkste onderwerpen van onze Code of Conduct echter groepsbreed met eenduidige stem gelijktijdig wilden uitrollen over circa 3.000 medewerkers wereldwijd en we niet de beschikking hebben over een centrale IT functie hebben we twee jaar geleden de Aalberts Integrity Academy opgezet. De Academy biedt verschillende online leermodules die de belangrijkste onderdelen van onze Code of Conduct behandelen. Hierbij kun je bijvoorbeeld denken aan "Code of Conduct", "Geen oneerlijke concurrentie", "Geen corruptie of omkoping" en "Speak Up!". Al deze modules zijn in verschillende talen binnen 15 minuten op de computer, iPad of mobiele telefoon te maken zodat het eigenlijk voor niemand een belemmering zou mogen zijn.
Wat zijn in je werk je belangrijkste uitdagingen?
De belangrijkste uitdaging is mijn collega's van Legal & Governance, maar soms ook andere disciplines, zoveel mogelijk aan te laten sluiten bij de business en tevens onderdeel uit te laten maken van diezelfde business. De "buy-in" van onze belangrijkste stakeholders binnen en buiten de business is naar mijn mening essentieel om te blijven weten wat er speelt, wat de risico's zijn maar vooral ook wat de kansen zijn. Wij proberen als juristen niet de politieagent of inspecteur te zijn waar als een soort formaliteit een stempel gehaald moet worden maar waar eigenlijk niemand in het bedrijf op zit te wachten. Voor de echt belangrijke zaken proberen we wel degelijk waar mogelijk te helpen en voor bepaalde onderwerpen is daarnaast zeker een stempel nodig, maar in beginsel laten we de verantwoordelijkheid voor juridische aangelegenheden daar waar hij hoort: waar het geld verdiend wordt oftewel de business.
Heb je nog iets wat jij wilt delen met andere GC?
Zeker, ik vind het belangrijk als we als General Counsel van elkaar blijven leren. Daarom is een netwerk als GCN zo belangrijk omdat dit ons een platform biedt om elkaar te ontmoeten. Daarnaast vind ik het persoonlijk erg belangrijk om naast het netwerken ook daadwerkelijk actief zaken  en documenten met elkaar te delen. Daarom stel ik hierbij een aantal handige documenten ter beschikking aan iedereen binnen GCN. Doe er je voordeel mee!