Traditionally, legal counsels (locally) are given the responsibility to ensure their (local) legal entities are compliant. With more stringent regulations, transparency requirements and new technologies, corporate compliance falls within the interest of General Counsels. Because after all, who will be held responsible when a legal entity is not compliant?
Companies have to deal with a multitude of regulations and increasing transparency requirements on a daily basis. As a result of this, managing legal structures is becoming a more complex task for legal counsels.
Failing to comply with legal entity management requirements can impose serious risks on companies, which risks can be divided into four categories:
Regulatory risks.
Authorities can impose fines which can become significant. These fines vary between countries, the nature of non-compliance and repetition of being non-compliant.
Personal liability for directors.
In most cases, a director will only incur personal liability (criminal and/or civil) where there is some personal fault through action or inaction.
Withdrawing business licenses
In some countries, non-compliance can result in a withdrawal of your business license. This could result in a reduction of revenue, impact supply chains, negatively influencing other group companies and cost significant time to obtain a new business license.
Reputational risks.
Nowadays, non-compliance could be picked-up by social media, potentially taken out of context. It is difficult to defend yourself against such news, regardless if you are right or wrong. Customers and especially users of your product and services have become much more sensitive to this type of news.
To mitigate these risks, it is important to transition to a future proof model for your legal entity management.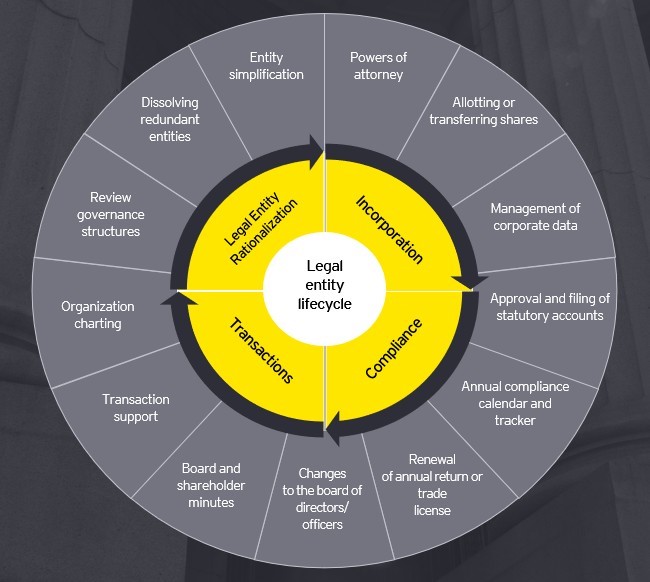 Transition from traditional to modern approach
Getting to a workable, futureproof model for your legal entity management can be a challenge. There are logistical challenges, involving coordinating multiple vendors in different time zones, but also receiving invoices in different currencies that may fluctuate. Next to the legal function, there are also internal and external stakeholders to keep in mind, such as finance, tax and governmental authorities. A few approaches and market practices that may help transitioning to a modern legal entity management process:
Subsidiary governance framework assessment
A subsidiary governance framework allows a company to manage its subsidiaries with a consistent approach that supports that organization's strategic objectives. Assess your subsidiary governance framework and determine whether this has been fully operationalized across the group.
Health checks
Run sample health checks on your legal entities in key markets to gauge their latest status, compliance requirements, exposure to risk and quality of the data in your entity management system.
Awareness directors' responsibilities
Assess if your organization's directors are aware of their responsibilities for each subsidiary to which they are named.
Identify inefficiencies
Identify inefficiencies and gaps in your current operating model and quantify how this is impacting business users and other stakeholders.
Assess current technology
Consider whether the organization's current technology is an enabler. If other stakeholders in the business can't rely on the data quality and there is no self-service model for data and document extraction, this would suggest otherwise.
Technology: Data management.
It is essential to have proper data management, having a system in place to meet all your needs and centrally manage all data and documents of entities in the group.
Sourcing strategy
Evaluate whether the right people are aligned to the right work. The sourcing strategy will alleviate the operational challenges that legal entity management brings. Outsourcing to a single global provider can deliver the requisite talent and technology to improve your subsidiary governance profile, while also reducing external costs and risk.