Sociaal contract tussen bedrijf en samenleving?
Tussen burger en Overheid bestaat een sociaal contract waaronder het individu vrijheden heeft opgegeven in ruil voor de ontvangst van gemeenschapstaken. Kan zo'n impliciet contract ook worden aangenomen tussen een private organisatie en de samenleving? En zo ja, welke rol heeft de General Counsel in de naleving ervan?
De politiek beantwoordde de eerste vraag onlangs nog bevestigend in het geval van ING door de salarisverhoging van haar topman tegen te houden vanwege de volkswoede tegen dit besluit, tien jaren na de redding met belastinggeld. Jan Koum, de oprichter van Whatsapp, deed hetzelfde door op te stappen nu Facebook gebruikers van Whatsapp alsnog gaat confronteren met advertenties. In beide gevallen met grote reputatieschade als gevolg.
De tweede vraag was tijdens het GCN najaarscongres het onderwerp van een ronde tafelgesprek tussen een bont gezelschap GC's uit diverse private organisaties in verschillende sectoren. Een sociaal contract is niet juridisch afdwingbaar. Wat is de rol van de General Counsel wanneer het individuele bedrijfsbelang botst met het collectieve maatschappelijke belang en schending van een sociaal contract in het geding is?
Definitie
Het gesprek begon met een zoektocht naar een eenduidige definitie. Geen wonder voor een begrip dat zijn oorspong vindt in de filosofie (Locke, Rousseau) en neerkomt op een hypothetisch contract dat teruggaat naar het verleden. Toch kostte het de deelnemers weinig moeite het onderwerp relevant te maken voor de eigen omgeving: van de poortwachtersrol in de financiele sector tot diervriendelijkheid in de voedselindustrie of extra zorgplicht bij microkredieten aan kwetsbare klanten. Een aantal GC's zagen het sociaal contract in relatie tot consumentenbescherming of als een kwestie van stakeholdermanagement. Anderen verwezen naar de bijdragen aan goede doelen waarmee wordt teruggegeven aan de maatschappij. Al snel kwam boven tafel dat het verder gaat dan dat. Met het tevreden stellen van consumentenwensen en het behartigen van uiteenlopende stakeholderbelangen alleen kom je er niet. Het is een kwestie van ethisch besef en moraliteit.
Dilemma's
Over de invulling van het sociaal contract liepen de meningen uiteen. Veel GC's zijn verantwoordelijk voor compliance. Van hen wordt verwacht dat zij weten hoe het hoort en er voor zorgen dat de organisatie zich aan die regels houdt. Dat gaat verder dan strikt juridische regels. Het is evident dat wettelijke bepalingen moeten worden nagekomen. Maar de moeilijkheid ligt in de invulling van open normen waarvoor duidelijke wettelijke kaders ontbreken. Publieke taken worden naar private bedrijven verschoven, maar het is niet altijd duidelijk op welke basis dat gebeurt en hoe ver de maatschappelijke verantwoordelijkheid of zorgplicht gaat. Zo wordt geworsteld met de handhaving van de stortvloed van regels die over de financiele sector zijn uitgestort of met de omgang met zakelijke mores die in andere culturen gelden. Soms ontbreekt het "eigen" bedrijfsbelang, b.v. omdat de marktpositie wordt geschaad of is het moeilijk de legitimatie van een gedeeld algemeen belang te zien.
Nakoming
Een sociaal contract moet draagvlak hebben. Hoe voorkom je, als een evident bedrijfsbelang ontbreekt, dat de medewerkers regels alleen nakomen omdat het moet en ze anders straf krijgen? Of dat compliance alleen maar geschiedt onder druk van de publieke opinie of de politiek. De legitimiteit van maatregelen moet worden ingezien om te kunnen worden geaccepteerd. Verhoog het zelfbewustzijn bij de medewerkers door gesprekken te voeren over het ethische kompas van een organisatie. Maak van de stok een wortel. Een missiegedreven organisatie met duidelijke waarden kan zorgen voor een positieve motivatie. Een motivatie die aansluit bij het huidige tijdsgewricht waar maatschappelijk toegevoegde waarde van bedrijven steeds belangrijker wordt gevonden. Het is voor veel millennials zelfs een bepalende factor in hun banenkeuze. Sociale verantwoording is daarbij cruciaal.
Conclusie
UIteindelijk waren deelnemers het eens dat het sociaal contract relevant is voor de GC. Cultuurverandering vraagt om een lange termijn benadering. Het gaat om de license to operate van de organisatie. Om in dit mijnenveld te kunnen manoevreren wordt van de GC veel meer creativiteit verwacht.
Over de auteur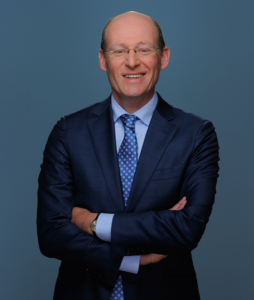 Anthony Hellegers
+31621817722 | Anthony.hellegers@hkstrategies.com
http://www.hillandknowlton.nl/nl
Anthony Hellegers, Communications Director Public Affairs bij Hill & Knowlton Strategies, combineert een scherpe juridische geest met een strategische benadering en een doelgerichte aanpak. Hij is een professional op het gebied van public affairs, crisis communicatie en reputatiemanagement met 11 jaar leidinggevende ervaring in de telecom industrie. Door zijn brede ervaring in de advocatuur en als leidinggevende in het internationale bedrijfsleven is hij in staat complexe situaties snel terug te brengen tot de kern en te voorzien van praktisch advies.