2019: het belang van technologie en data
In het verleden lag de focus in deze vooruitblikken met name op verwachte ontwikkelingen op juridisch gebied. Dit jaar signaleert Jeroen Plink, CEO van het in 2018 opgerichte Clifford Chance Applied Solutions, een aantal trends op het gebied van technologie en data die de praktijk van de meeste bedrijfsjuristen direct raken.
Een belangrijke drijfveer voor technologische ontwikkelingen op juridisch vlak komt voort uit de enorm toegenomen hoeveelheid regelgeving: tussen 2008 en 2017 zijn er wereldwijd, alleen al voor banken, 50.000 nieuwe regelgevende frameworks geïntroduceerd (bron: Bank of international Settlements 2018). De gevolgen daarvan voor de juridische praktijk zijn onmetelijk: wet- en regelgeving verandert dagelijks, maar het aanpassen van interne protocollen als gevolg van deze wijzigende wet- en regelgeving op dagelijkse basis is praktisch onmogelijk. Dit laat nog onbeschouwd de noodzaak om software systemen in lijn te krijgen met de veranderde wet- en regelgeving. Alleen met technologie, de juiste processen en up-to-date informatie is dit probleem op te lossen.
Op kleine deelgebieden is het aanpassen van documentatie, software en processen misschien nog praktisch haalbaar, maar een grote wijziging zoals bijvoorbeeld het veranderen van de rentebepalingen in de honderden, zo niet duizenden overeenkomsten die een bank heeft als gevolg van de afschaffing van IBOR, behoeft een combinatie van technologie, processen en mensen. In 2019 wordt een aantal grote regelgeving gedreven "repapering" projecten verwacht zoals de eerdergenoemde IBOR en Brexit gerelateerde projecten.
Zowel vanuit een compliance als een commercieel perspectief wordt het steeds belangrijker om te weten wat de rechten en verplichtingen van een onderneming zijn en wat voor data de vennootschap houdt. De invoering van GDPR heeft voor veel organisaties inzichtelijker gemaakt wat voor data er binnen de organisatie leeft. Veel organisaties zullen dat echter in 2019 door moeten zetten of op moeten starten. Vanuit een juridisch perspectief blijft het enorm belangrijk om goed te weten wat de regelgeving is in de landen waar men opereert. Begin 2019 lanceert Clifford Chance Applied Solutions daarom ook een wereldwijd data regulation product wat het voor een organisatie inzichtelijk maakt wat wereldwijd de verplichtingen zijn ten aanzien van data.
Daarnaast zien wij een steeds grotere behoefte aan antwoorden op ethische en policy vraagstukken over data en technologie. Zo heeft de discussie over social media de vraag over wat ethisch gedrag is met betrekking tot persoonlijke gegevens naar de voorgrond gebracht. Deze discussie zal in 2019 voortgezet worden en bedrijven zullen, naast de verplichtingen die uit de wet voortvloeien, zich af moeten vragen wat maatschappelijk verantwoord gebruik van persoonlijke gegevens is.
Tenslotte signaleren we een grote stijging aan kosten, bijvoorbeeld omdat bedrijven verplicht zijn om de betrokken kennis te geven als hun data gelekt is na een cyber-attack. Goede technologie en processen kunnen hierbij helpen.
De noodzaak om technologie in te zetten om deze uitdagingen het hoofd te bieden wordt steeds groter. In 2019 verwachten we een toenemende focus op het oplossen van deze vraagstukken en verwachten we dat technologieën als kunstmatige intelligentie en blockchain daar een rol in gaan spelen.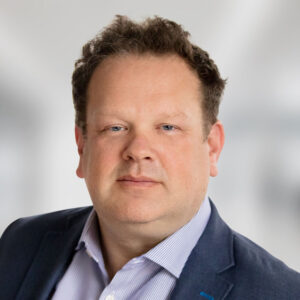 Clifford Chance Applied Solutions ontwikkelt oplossingen om bedrijven te helpen met dit soort uitdagingen. Op www.cliffordchanceappliedsolutions.com vindt u meer informatie.
Jeroen Plink is CEO van Clifford Chance Applied Solutions, dat zich richt op de ontwikkeling van (juridische) digitale producten. Hij werkte van 1996 tot 2000 als advocaat ondernemingsrecht bij Clifford Chance in Amsterdam en heeft bijna twintig jaar ervaring opgebouwd met productontwikkeling van legal tech, consultancy op het gebied van innovatiestrategie en het opbouwen van en investeren in ondernemingen op het gebied van legal tech. Jeroen richtte onder meer Practical Law Company in de VS op waarvan hij tussen 2007 en 2013 CEO was toen dit bedrijf aan Thomson Reuters werd verkocht. Ook was hij bestuurslid en later adviseur van Thomson Reuters. Verder was Jeroen medeoprichter en bestuurder van Legistics Limited, de Software as a Service (SAAS)-applicatie voor due diligence.