Hoogste tijd voor strategische focus op de juridische afdeling
In-house juridisch advies wordt – in tegenstelling tot extern advies – vaak gezien als 'gratis'. Daarnaast ontbreekt vaak een 'filter' dat de vraag naar in-house juridisch advies kanaliseert en ervoor zorgt dat de in-house expertise op de beste manier wordt benut.  Tijd om strategisch te gaan sturen!
Onder andere als gevolg van de crisis van afgelopen jaren, wordt binnen het bedrijfsleven kritisch gekeken naar kosten van 'niet-primaire processen' als juridische ondersteuning. Het beantwoorden van juridische vragen in eigen huis in plaats van door externen, ligt daarbij voor de hand. Immers, een extra vraag stellen, leidt in de regel niet tot meer FTE's op de juridische afdeling. Bovendien worden kosten van in-house advies vaak niet (direct) doorbelast aan de afdeling die de vraag stelt. Tel hierbij op dat het voor niet-juristen vaak lastig is om in te schatten wanneer juridisch advies cruciaal is en dat 'legal' om een 'sign off' vragen steeds vaker de standaardprocedure is en je hebt een recept voor overconsumptie.
Veel werk verzetten betekent echter niet dat de tijd ook besteed wordt aan de juridische vraagstukken, die het meest belangrijk zijn voor het bedrijf. Sterker nog, lange doorlooptijden en onvoldoende tijd voor de zaken die ertoe doen, kan het draagvlak voor de juridische afdeling op termijn zelfs ondermijnen.
Tijd om dus vooruit te denken en strategisch te bepalen wat de focus moet zijn van het juridische team. Dat begint met het vaststellen van afdelingsdoelstellingen. Als we uit de waan van de dag stappen, komen we vaak tot de conclusie  dat het doel van de juridische afdeling is het bedrijf te helpen (op een verantwoorde manier) zaken te doen. En niet om zoveel mogelijk juridische vragen te beantwoorden. Zo bezien dient de juridische afdeling de meeste aandacht te hebben voor onderwerpen die vanuit bedrijfseconomisch en strategisch perspectief het belangrijkste zijn voor het bedrijf. En niet per se voor 'degene die de meeste vragen stelt'.
Alles begint bij een goede 'nulmeting': het in beeld brengen van waar de juridische afdeling zijn tijd aan besteedt. Je zou als General Counsel bijvoorbeeld ook heel gemakkelijk een aantal maanden lijstjes laten bijhouden met zaken als (a) de afdeling die een vraag stelt, (b) een korte omschrijving, (c) de complexiteit van de vraag (d) risico-inschatting voor de bedrijfsvoering en (e) de tijdsbesteding.
Aan de hand van deze redelijk basale informatie kan gemakkelijk worden ingeschat of je als  juridische afdeling voldoende tijd besteedt aan de andere afdelingen en vragen die ook voor het bedrijf cruciaal zijn. Als dat niet zo is – en dat zal eerder regel zijn dan uitzondering – dan is er reden tot actie. Bijvoorbeeld door beter te begrijpen waarom een kleine afdeling relatief veel vragen stelt. Wellicht blijkt dan dat door bepaalde ingrepen, zoals standaard documentatie, trainingen, spreekuren, inbouwen van 'materialiteitsdrempels' en wat dies meer zij de vraag drastisch verlagen zonder noemenswaardige impact op risico's en compliance. Een andere interventie kan zijn het werk bewuster te verdelen onder de in-house juristen of de workflow op een andere manier te organiseren.
Een plan voor de juridische afdeling dat duidelijk is afgeleid van wat belangrijk is voor het bedrijf heeft vele voordelen. Het geeft het juridische team focus en inzicht in hun toegevoegde waarde. Hetzelfde geldt voor 'interne klanten': met een goed plan kan de juridische afdeling rekenen op een betere zichtbaarheid en draagvlak. En met een beetje geluk neemt door uw slimme interventies de hoeveelheid werk ook nog af. Win-win, dus wat houdt jou nog  tegen?
Over de auteur: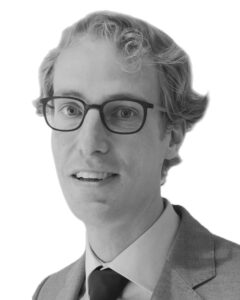 Clemens Flink is Senior Legal Project Manager bij Baker McKenzie en stuurt vanuit deze rol verschillende internationale en complexe projecten aan. Onder andere op het gebied van M&A, banken -en effectenrecht, arbeidsrecht en transfer pricing en intellectueel eigendomsrecht. Van huis uit is hij econoom en jurist en hij heeft ervaring als advocaat en strategieconsultant bij toonaangevende kantoren. Clemens spreekt regelmatig over Legal Project Management en innovatie binnen de juridische wereld.