Legal Operating Model
Improving the efficiency of your legal department, getting insight into your legal spend, adding value to the company and doing-more-with-less? These are some of the concerns of the General Counsel of today besides their legal tasks.
How to cope with a growing demand of tasks
Organizations are expecting their legal function to bring more value to the business – from a strategic as well as operational perspective. Yet the growing number of regulations to address on a worldwide basis amid declining personnel and resources make it challenging for legal departments to respond to those expectations without facing unwanted risk.
A growing number of General Counsel (or their stakeholders), who are taking a long- term view are leveraging organizational transformation projects to significantly improve their own legal operations. Then, with new-found efficiencies in legal operations, they can add greater value to the decision-making process, thus establishing legal as a strategic partner in the business and an active participant in commercial decisions.
Legal Operating Model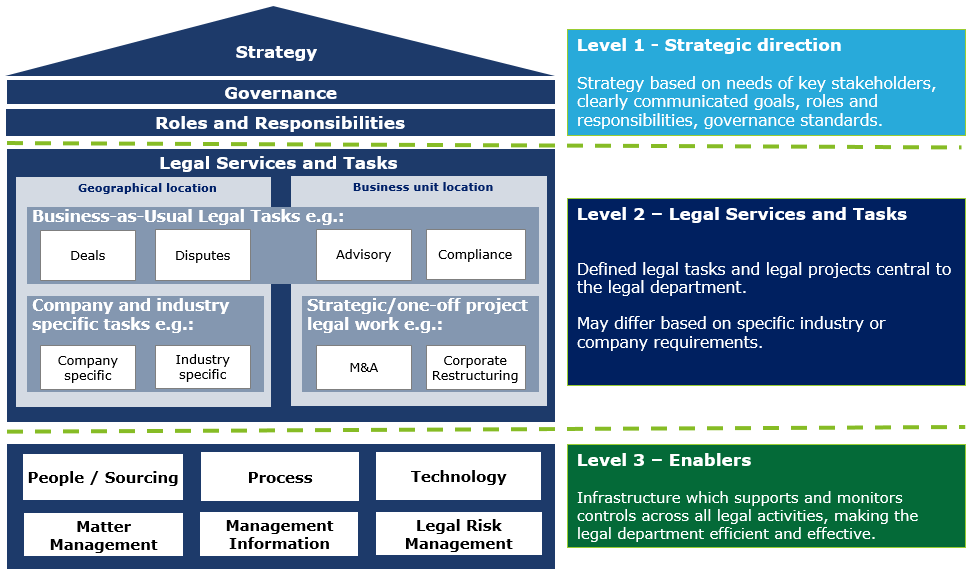 In order to help GCs improve the efficiency and quality of their operations and activities, Deloitte Legal have developed a 'Legal Operating Model'. A framework that incorporates the legal department's key processes and enablers can help define ways to drive additional value. A framework should combine the 'tone from the top' in relation to strategy and governance, the key legal processes and value drivers, as well as the key enablers that affect those value drivers. Striking the right balance with respect to value drivers is critical, as is prioritising the enablers appropiately. Many companies tend to focus more on processes and traditional people models. But accomplishing more with less requires highly functioning systems and technology that can deliver the right data and information as well as more flexible and efficient sourcing models.
The key levels of this 'Legal Operating Model' are:
Setting strategic direction – How to align your legal activities with your stakeholders expectations and wider strategy for the business, how this is embedded into the legal operations via strong governance and the structure of the legal department

It is essential to align the legal department's strategic vision to the wider corporate strategy
Embed the strategy (e.g. commercially driven decision making, risk appetite etc) into the legal policies governing the department
Assign appropriate roles and responsibilities to deliver on the strategy

Key Legal Activities – Understand the key legal tasks by dividing them into business-as-usual and strategic legal work

Business-as-usual; day to day operational work
Strategic Legal work: e.g. M&A, corporate restructuring, IP Monetization

Enablers – Improve the performance of your enablers to work more efficiently, effectively and at a lower cost. Several enablers are critical to a high-performing legal department:

People / Sourcing
Process
Technology
Matter Management
Management Information
Legal Risk Management
Beginning your transformation journey
An effective way to begin your transformation journey is to benchmark your legal department against its effectiveness to carry out your strategy against best practice operating models. The ultimate goal of a Legal Operating Model is to build a legal function within an organization that is effective, efficient and transparant.
Effective: Do we do the right things
Efficient: Do we do the right things right
Transparent: Do we have proper oversight of the risks and opportunities
Legal Management Consulting (LMC) is a new approach and a new discipline. It builds on mainstream management consulting, risk advisory services, as well as tax management consulting.
Our research suggests in-house functions are under unprecedented pressures – to demonstrate value, to manage risks, to contain costs, to embrace new ways of working, to introduce technology and to align with their organizations. It is a time of transformation.
LMC is designed to help GCs manage and transform their departments in a controlled and methodical manner, to move from fire-fighting and piecemeal changes to a more systematic transition.
Please note that this article is a short introduction of a Legal Operating Model. More information and white papers will be published and knowledge will be shared during the upcoming General Counsel NL Annual Conference on April 6th in Amsterdam.
For more information, please get in touch with:
Chris de Jong, Managing Partner Deloitte Legal
cedejong@deloitte.nl or mobile : +316 5585 3065